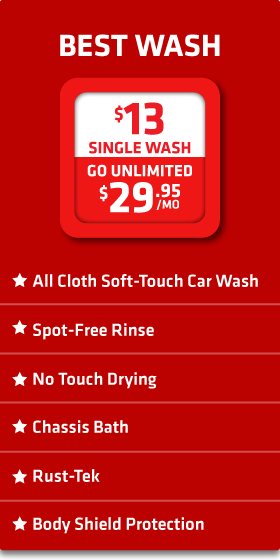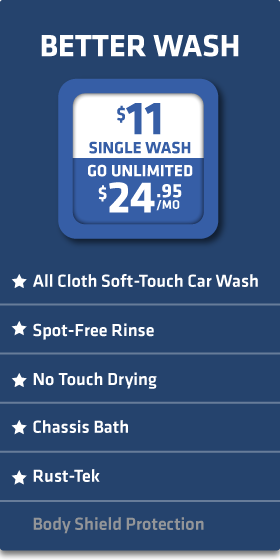 GO UNLIMITED
Unlimited Monthly washing is convenience, savings and security all in one affordable package.  Guarantee your vehicle is always clean by joining the plan that is best for you.  Our unique FastPass® system gets you in and out as quickly as possible.  Wash every day if you like, we guarantee you will love it!
Country Clean Car Wash in Hartville is dedicated to getting your vehicle clean as quickly as possible.  Our state of the art car wash facility offers a complete system of professional soap and waxes to keep your car sparkling clean.  Select a wash package at our self service kiosk and drive through the tunnel, it's simple and fast!  All of our washes include FREE Self-Service Vacuums and our Unlimited program lets you wash as often as you like for one low monthly price..

Professional Fast Lube
We drain your oil, change your oil filter and fill with Service-Pro oil. At Fast Lube, your vehicle receives a complete check of all vital fluids, tire pressures, tire wear and wiper blade condition.  Our courteous technicians will inspect your vehicle for other maintenance concerns, as well as offer advice on manufacturer's suggested services.